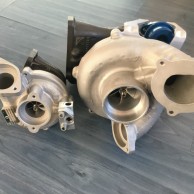 15.04.2017r.
335d ST4 Hybrid Turbos 480HP 695 LB-FT TQ
New designed Hybrid Turbos by ProTurbo from Finland with optimally modified hot side on the LP turbo which produces lower driver pressure (EMP) than stock turbo setup with more flow, more boost, more tq!
The turbo configuration keeps lag to a minimum, and provides excellent drivability in daily driving conditions. Note the lack of lag on the torque curve, where torque exceeds 500 lb-ft at 1800 rpm, and 570 lb-ft at 2000 rpm. Also note the horsepower curve holds near peak levels all the way to the shift point.